About Andrew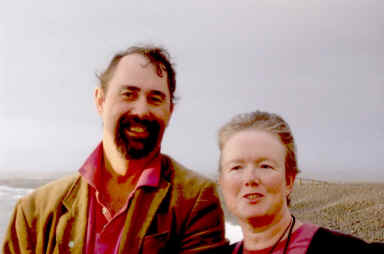 Andrew was Born in 1961 and has lived most of His Life in North Devon. His interests are Music, Seafood, Chess, the Theatre, and The American Civil War.
Andrew was also a founding member of the Barnstaple Writers', which continues to meet at the Barnstaple Library.
Although He has Cerebral Palsy this did not prevent him from Marrying Jean in 1993, who had Graduated from Moorlands College in the Summer of 1985, and over the years Andrew has written and campaigned with Jean on many Disability Issues. Working as he has done ,first as an Office Clerk, and then as a Historical Researcher. Since then Andrew and Jean have been involved with a Counselling Organization, and Different Church activities.
As well as this Andrew and Jean have traveled widely across Europe, and Andrew spent time in November 1990 in the Middle East, then later living with an Irish Family in Dublin in August l99l with GLO for going on to Glasgow in March l992.
As Andrew is Politically aware believing as he does in Social Justice, Andrew became part of The Christian Socialist Movement, as well as joining The National Poetry Society, and The South West Disability Development Arts Agency, along side the North Devon Arts.
Along side this, he has found time to attend 'The Way with Words' Literature Festival at near by Totnes. As well as gaining a small bursary from the South West Arts in order to attend Totleigh Barton Devon, this took place in the late Summer of 1988, where Andrew was Tutored by John Moat and John Fairfax.
In 2010 Andrew was asked if he would take part for the first time in the North Devon "Theatre Fest" which takes place during the 30 days of June. It was also during this time he exhibited some of his Poetry at www.bostonteaparty.co.uk Barnstaple.
In 2012 Andrew and Jean took a rescue Cat on by the name of Star, she is three or four years old.
Since then although suffering much illness, including a seventeen day hospital, Andrew has become something of a second hand book dealer and Volunteer for a North Devon based Christian Charity that raises money for Schools and Books. In Africa - www.literacyprogrammes.org.uk
Plus he has now joined www.sharemusicsouthwest.org an Arts based Disability Charity.
During the Summer of 2O15 Andrew took Part for the fist time in the Appledore Book Festival. As well as The R.H.S. Rosemoor Literary Day Great Torrington.
Andrew and Jean have also joined the Taw U3A Group and endeavor they will each take-up their own and varied interests.
In July 2014 Andrew was excepted into the Poetry Society, which is based in Earls Court London, and now some of his early books can be bought from Amazon, he is now in talks with www.chickedshed.org.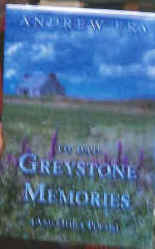 Early in2017 Andrew Published his seventh volume of Poetry, Greystone Memories, and was admitted into the Writer's Guild of Great Britain.
Andrew continues to write both Poetry and Prose's, and sincerely believes that we are here to imitate our Father the Creator, as we continue to Carol through the colours of all our lives
Travelling as he has done extensively through Europe and the Middle East, His titles are," Clouds and Clouds. Marionette. Breaking Chains , Taw Poems, as well as Just Passing, most recently The Golden Hare, Hand me down my Walking Cane. Since, was later nominated for the Executive Council of the Writer's Guild of Great Britain.
Updated August 2017